City of Norwich Flag Initiative
You are invited to submit a design for the creation of a City flag.
A City flag is meant to elevate community pride and represent the history and culture of our unique community – to show who we are and who we want to be as a City.
When creating your City flag design, you are encouraged to take a look at the North American Vexillological Association for guidance. The Flag Initiative Committee's decision will be based on five (5) principles of flag design that can be found in "Good" Flag, "Bad Flag" Guidelines (PDF). While these are not "rules", deviation from the following guidelines should be made with purpose: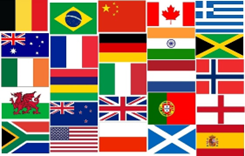 Keep It Simple
Use Meaningful Symbolism
Use 2-3 Basic Colors
No Lettering or Seals
Be Distinctive or Be Related
When submitting your design, you must tell us why you chose the elements of your flag design and how they represent the City of Norwich. Other resources to help you with your design are the 2015 TED Talk by Radio Host Roman Mars , "Vexillum" June 2020 issue (PDF) and "Guiding Principles on Flag Design" (PDF).
Who can submit a flag design
The flag design is open to everyone, both adults and children. You do not have to be a City of Norwich resident to submit a design, but residency may be a factor in selection of the final decision.
How to Submit a Design
Designs can be emailed to historian@norwichnewyork.net or mailed to City of Norwich, Attn: Historian, One City Plaza, Norwich, NY 13815.
Become a member of the Flag Initiative Committee
If you would like to be a member of the Flag Initiative Committee, please contact Agnes Eaton at historian@norwichnewyork.net or call 607-334-1201. The committee will consist of a total of 7 to 10 volunteer members. The duties of the committee will consist of attending a few meetings, assist in promotion of the initiative, review design submissions and make recommendations.
Tentative Timeline for the Flag Initiative
April 17, 2023 – Founders Day – Kick-off of Flag Initiative
June 14, 2023 - Flag Day – Final Formation of Flag Initiative Committee
November 3, 2023 – First round of "judging"
December 1, 2023 - Second round of "judging"
March 19, 2024 – Final design announced.
April 16, 2024 – City of Norwich flag adopted by the Common Council