City Assessor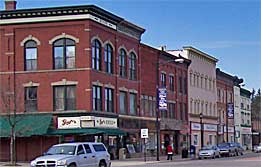 One City Plaza
Norwich, NY 13815
Phone: (607) 334-1205
Fax: (607) 334-1208
Email : norwichassessor@norwichnewyork.net
City Assessor - Rochelle Harris
Hours: Mondays from 2 p.m. to 5 p.m. - no appointment necessary; 5 p.m. to 6 p.m. with an appointment.
Commissioned by the State of New York, the City Assessor is responsible for locating, listing, and valuing all taxable and non-taxable real property within the City. The City Assessor
Maintains records for each parcel within City boundaries.
Receives complaints on assessments and assists the Assessment Board of Review during Grievance Day proceedings.
Attends the public examination of the Tentative Assessment Roll.
Completes and publishes the Final Assessment Roll.
Prepares reports as required by the Common Council or the New York State Office of Real Property Tax Services.
Provides school districts within the assessing unit with compiled information related to local assessments and their taxable status.
Reviews and makes determinations of tax exemptions.
Conducts assessment review and property inspections when necessary.
Assesses new or partial constructions.
Some helpful links: